Archive for the 'Information security' Category
A diagram of a common DevOps lifecycle: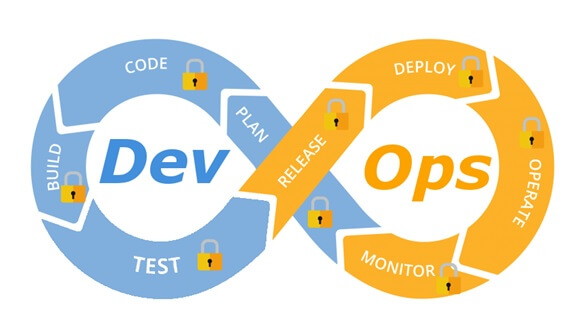 The DevOps world meant to provide complementary solution for both quick development (such as Agile) and a solution for cloud environments, where IT personnel become integral part of the development process. In the DevOps world, managing large number of development environments manually is practically infeasible. Monitoring mixed environments become a complex solution and deploying large number of different builds is becoming extremely fast and sensitive to changes.
The idea behind any DevOps solution is to provide a solution for deploying an entire CI/CD process, which means supporting constant changes and immediate deployment of builds/versions.
For the security department, this kind of process is at first look a nightmare – dozen builds, partial tests, no human control for any change, etc.
For this reason, it is crucial for the security department to embrace DevOps attitude, which means, embedding security in any part of the development lifecycle, software deployment or environment change.
It is important to understand that there are no constant stages as we used to have in waterfall development lifecycle, and most of the stages are parallel – in the CI/CD world everything changes quickly, components can be part of different stages, and for this reason it is important to confer the processes, methods and tools in all developments and DevOps teams.
In-order to better understand how to embed security into the DevOps lifecycle, we need to review the different stages in the development lifecycle:
Planning phase
This stage in the development process is about gathering business requirements.
At this stage, it is important to embed the following aspects:
Gather information security requirements (such as authentication, authorization, auditing, encryptions, etc.)
Conduct threat modeling in-order to detect possible code weaknesses
Training / awareness programs for developers and DevOps personnel about secure coding
Creation / Code writing phase
This stage in the development process is about the code writing itself.
At this stage, it is important to embed the following aspects:
Connect the development environments (IDE) to a static code analysis products
Review the solution architecture by a security expert or a security champion on his behalf
Review open source components embedded inside the code
Verification / Testing phase
This stage in the development process is about testing, conducted mostly by QA personnel.
At this stage, it is important to embed the following aspects:
Run SAST (Static application security tools) on the code itself (pre-compiled stage)
Run DAST (Dynamic application security tools) on the binary code (post-compile stage)
Run IAST (Interactive application security tools) against the application itself
Run SCA (Software composition analysis) tools in-order to detect known vulnerabilities in open source components or 3rd party components
Software packaging and pre-production phase
This stage in the development process is about software packaging of the developed code before deployment/distribution phase.
At this stage, it is important to embed the following aspects:
Run IAST (Interactive application security tools) against the application itself
Run fuzzing tools in-order to detect buffer overflow vulnerabilities – this can be done automatically as part of the build environment by embedding security tests for functional testing / negative testing
Perform code signing to detect future changes (such as malwares)
Software packaging release phase
This stage is between the packaging and deployment stages.
At this stage, it is important to embed the following aspects:
Compare code signature with the original signature from the software packaging stage
Conduct integrity checks to the software package
Deploy the software package to a development environment and conduct automate or stress tests
Deploy the software package in a green/blue methodology for software quality and further security quality tests
Software deployment phase
At this stage, the software package (such as mobile application code, docker container, etc.) is moving to the deployment stage.
At this stage, it is important to embed the following aspects:
Review permissions on destination folder (in case of code deployment for web servers)
Review permissions for Docker registry
Review permissions for further services in a cloud environment (such as storage, database, application, etc.) and fine-tune the service role for running the code
Configure / operate / Tune phase
At this stage, the development is in the production phase and passes modifications (according to business requirements) and on-going maintenance.
At this stage, it is important to embed the following aspects:
Patch management processes or configuration management processes using tools such as Chef, Ansible, etc.
Scanning process for detecting vulnerabilities using vulnerability assessment tools
Deleting and re-deployment of vulnerable environments with an up-to-date environments (if possible)
On-going monitoring phase
At this stage, constant application monitoring is being conducted by the infrastructure or monitoring teams.
At this stage, it is important to embed the following aspects:
Run RASP (Runtime application self-production) tools
Implement defense at the application layer using WAF (Web application firewall) products
Implement products for defending the application from Botnet attacks
Implement products for defending the application from DoS / DDoS attacks
Conduct penetration testing
Implement monitoring solution using automated rules such as automated recovery of sensitive changes (tools such as GuardRails)
Security recommendations for developments based on CI/CD / DevOps process
It is highly recommended to perform on-going training for the development and DevOps teams on security aspects and secure development
It is highly recommended to nominate a security champion among the development and DevOps teams in-order to allow them to conduct threat modeling at early stages of the development lifecycle and in-order to embed security aspects as soon as possible in the development lifecycle
Use automated tools for deploying environments in a simple and standard form.
Tools such as Puppet require root privileges for folders it has access to. In-order to lower the risk, it is recommended to enable folder access auditing.
Avoid storing passwords and access keys, hard-coded inside scripts and code.
It is highly recommended to store credentials (SSH keys, privileged credentials, API keys, etc.) in a vault (Solutions such as HashiCorp vault or CyberArk).
It is highly recommended to limit privilege access based on role (Role based access control) using least privileged.
It is recommended to perform network separation between production environment and Dev/Test environments.
Restrict all developer teams' access to production environments, and allow only DevOps team's access to production environments.
Enable auditing and access control for all development environments and identify access attempts anomalies (such as developers access attempt to a production environment)
Make sure sensitive data (such as customer data, credentials, etc.) doesn't pass in clear text at transit. In-case there is a business requirement for passing sensitive data at transit, make sure the data is passed over encrypted protocols (such as SSH v2, TLS 1.2, etc.), while using strong cipher suites.
It is recommended to follow OWASP organization recommendations (such as OWASP Top10, OWASP ASVS, etc.)
When using Containers, it is recommended to use well-known and signed repositories.
When using Containers, it is recommended not to rely on open source libraries inside the containers, and to conduct scanning to detect vulnerable versions (including dependencies) during the build creation process.
When using Containers, it is recommended to perform hardening using guidelines such as CIS Docker Benchmark or CIS Kubernetes Benchmark.
It is recommended to deploy automated tools for on-going tasks, starting from build deployments, code review for detecting vulnerabilities in the code and open source code, and patch management processes that will be embedded inside the development and build process.
It is recommended to perform scanning to detect security weaknesses, using vulnerability management tools during the entire system lifetime.
It is recommended to deploy configuration management tools, in-order to detect and automatically remediate configuration anomalies from the original configuration.
Additional reading sources:
This article was written by Eyal Estrin, cloud security architect and Vitaly Unic, application security architect.
What Is Internet Security And Why Is It Important?
While the digital age has revolutionized the way we communicate, interact, buy and sell products and search for information, it has also created new risks that were not risks before. The internet, while extraordinary, is not always the safest environment and learning how to protect yourself, your business and your data is an important part of being an internet user. Internet security is a term that encompasses all of the strategies, processes and means an individual or company might use to protect themselves online including browser security, data protection, authentication and security for any transactions made on the web. It is about securing and protecting your networks and ensuring your privacy online.
With more and more people using the internet every day, more and more information is being processed online and this means huge amounts of data is being moved around the web. Sadly, this has seen the rise of new types of cybercrime and more opportunities for those looking to act criminally online to do so. If you use the internet in any way, whether it be for personal or professional reasons, such as for social media, emailing, for banking, running a website, to buy groceries or to publish content, you need to be thinking about your internet security and how to keep yourself safe online.
Whether you want to protect yourself or your business, it is important to know and understand internet security and the best methods for protecting yourself. Here are four ways you can begin to learn about internet security.
If you are serious about learning more about internet security and using your knowledge to help you professionally, then you may consider undertaking an online course on internet and network security. This is one of the more thorough and structured ways to learn everything there is to know about internet security and what strategies you can implement yourself. By doing an online course, diploma or degree, you know that you are learning from teachers and tutors who know what they are talking about which allows you to gain valuable skills and knowledge. With a qualification at the end of the course, you can then put this knowledge to good use and help others develop advanced internet security mechanisms.
One of the great things about the internet is that you can find a wealth of information online about any topic that you are interested in. Whether it is baking, travel, fashion, or sports, you can find websites and blogs that help keep you up to date with what is going on in each of these areas. The same can be said for security. If you are interested in learning a bit more about security in your own time, then doing some online research is a good way to begin. Many experts out there understand the importance of network security and write about it. The good thing about reading blogs is that you can find blogs suitable for all levels of knowledge about network security. Whether you have very limited knowledge and are looking to understand basic terminology or you are more experienced and hoping to be introduced to more complex problems, you can find blogs that will be tailored to both.
Youtube may be a great platform for watching funny animal videos of music video clips, but it also a great online learning resource. There are many channels on Youtube that provide online learning videos, which offer a more hands-on approach to learning about internet security. With the videos, you can see the steps behind different processes in internet security and concepts that may be difficult to understand when you read about them can be more easily explained in a visual manner. Once you understand the basics of cybersecurity, Youtube is a great way to learn about how to use certain tools in a systematic fashion.
It may seem ironic to read about internet security from a book but there are some great books and textbooks out there that are focused on internet security. These books are usually written by experts in the field who really know their stuff. Whether you want to learn about hacking, malware, security systems or privacy, chances are there is a book on the subject that will cover every aspect of the topic. Check out Amazon or your local library to see if they have any books that will interest you.